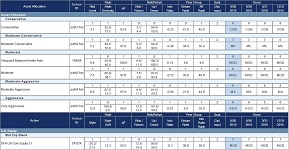 Do you know how your company's retirement plan investments are performing?
Wellspring Financial Partners will provide you with a free retirement plan scorecard analyzing the investments that you offer in your retirement plan. Wellspring believes so strongly that every retirement plan should offer quality investments that we are willing to help you make sure of it! The scorecard is offered free of charge, and with no obligation to you. You only need to provide us with the investment options in your plan and we can generate your scorecard confidentially. No need to provide us with any other confidential employer, employee of financial data!
The Scorecard incorporates many factors to evaluate your investment's fund managers and their investment strategies. The Scorecard System is built around pass/fail criteria, on a scale of 0 to 10 (with 10 being the best) and has the ability to measure Active, Passive and Asset Allocation investing strategies.
The Scorecard incorporates modern portfolio theory statistics, quadratic optimization analysis, and peer group rankings (just a few of the quantitative factors). The scorecard also considers things such as manager tenure, the fund's expense ratio relative to the average fund expense ratio in that asset class category, and the fund's strength.
Other criteria that may be considered including the viability of the firm managing the assets, management or personnel issues at the firm, and/or whether there has been a change in direction of the fund's stated investment strategy.
Combined, these factors are a way of measuring the relative performance, characteristics, behavior and overall appropriateness of a fund for inclusion into a plan as an investment option.
For a detailed explanation of the entire Scorecard  feel free to download our sample here.
Get Your Free Scorecard!
To obtain your scorecard, just fill in the contact form on the right side of this page and we will be in contact with you directly to start the easy process. Or you can email us at info@wellspringfp.com, or if you wish call us at (520) 327-1019.