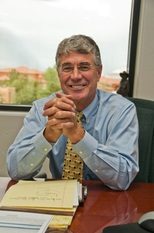 Frustrated with Wall Street and the confusion it's caused to investors, Pat wanted to level the playing field and help families reach their financial goals. He also focused on helping companies provide the very best of investments and services for retirement plan sponsors and their employees. Ten years in the planning, Patrick and his team launched Wellspring Financial Partners in 2011.
Pat is a CPA by background and holds an MBA from the highly respected University of Chicago. Pat is an accredited Certified Financial Planner CFP® and is Series 65 licensed. Pat's past career experience includes leading four successful companies as the Chief Executive Officer.
Pat with his wife, Peggy, and their three children have lived in Tucson over 20 years. He has actively served in the Tucson community to contribute to its needs. Patrick worked for 18 months as President of the Community Food Bank. Today he is on numerous boards including both the RCOT Foundation and Treasurer of the Classic Car Show which benefits Rotary's Read & Seed Program, and he is on the Advisory Board of the Care Givers Training Institute. Pat's high intelligence combined with idealistic devotion to the interests of others is unmistakable and rare.