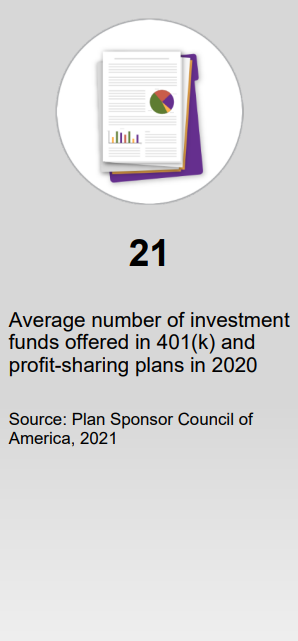 Created in 1996, National 401(k) Day has historically been celebrated on the Friday following Labor Day to shine a spotlight on this important employee benefit. Since the late 1990s, plans have evolved substantially, and most participants can now choose from a diverse variety of investments. The chart below shows how 401(k) and profit-sharing funds were invested in 2020.
All investing involves risk, including the possible loss of principal, and there is no guarantee that any investment strategy will be successful.
Mutual funds are sold by prospectus. Please consider the investment objectives, risks, charges, and expenses carefully before investing. Be sure to read the prospectus carefully before deciding whether to invest.

---
IMPORTANT DISCLOSURES
Wellspring Financial Partners, LLC does not provide tax or legal advice. The information presented here is not specific to any individual's personal circumstances. To the extent that this material concerns tax matters, it is not intended or written to be used, and cannot be used, by a taxpayer for the purpose of avoiding penalties that may be imposed by law. Each taxpayer should seek independent advice from a tax professional based on his or her individual circumstances. These materials are provided for general information and educational purposes based upon publicly available information from sources believed to be reliable—we cannot assure the accuracy or completeness of these materials. The information in these materials may change at any time and without notice. Prepared by Broadridge Investor Communication Solutions, Inc. Copyright 2022