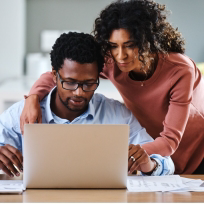 The FAFSA, which stands for Free Application for Federal Student Aid, is the federal government's financial aid application. The FAFSA is a prerequisite for federal student loans, grants, and work-study. In addition, colleges typically require the FAFSA before distributing their own need-based aid and, in some cases, merit-based aid.
For the 2020-2021 school year, the FAFSA can be filed as early as October 1, 2019. Whether you have a senior in high school or a returning college student, it's a good idea to file the FAFSA as early as possible to increase your child's chances of getting financial aid, because some aid programs operate on a first-come, first-served basis. (For high school seniors who haven't yet been accepted at a particular college, you can list all the schools your child has applied to on the form.)
The 2020-2021 FAFSA relies on your family's current asset information and two-year-old income information from your 2018 tax return. The form is available online at fafsa.ed.gov. In order to file the form, you'll need to create an FSA ID if you haven't done so already (be sure to follow the online instructions). You can save time and minimize errors on the FAFSA by using the built-in IRS Data Retrieval Tool, which electronically imports your tax data.
Even if you don't expect your child to qualify for need-based aid, you still might consider submitting the FAFSA. All students attending college at least half-time are eligible for federal unsubsidized Direct Loans regardless of financial need. So if you want your child to take out a loan (or your child needs to do so), you'll need to file the FAFSA. (Unsubsidized Direct Loan amounts are capped each year: $5,500 freshman year, $6,500 sophomore year, and $7,500 junior and senior years.)
Keep in mind that you'll need to resubmit the FAFSA each year that you want your child to be considered for aid. Fortunately, renewal FAFSAs take less time to complete.
---
IMPORTANT DISCLOSURES
Wellspring Financial Partners, LLC does not provide tax or legal advice. The information presented here is not specific to any individual's personal circumstances.
To the extent that this material concerns tax matters, it is not intended or written to be used, and cannot be used, by a taxpayer for the purpose of avoiding penalties that may be imposed by law. Each taxpayer should seek independent advice from a tax professional based on his or her individual circumstances.
These materials are provided for general information and educational purposes based upon publicly available information from sources believed to be reliable—we cannot assure the accuracy or completeness of these materials. The information in these materials may change at any time and without notice.